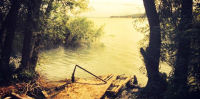 BUY 2 SAVE £25! USE COUPON CODE 'GROUP'! 
Price includes:
- 5 nights accommodation / 3 nights at Europe's biggest lake Balaton, 2 nights in Budapest. Check in 21st May, Check out 26th May.
- Travel from the Airport to the accommodations & back
- 3x Breakfast/Dinner, all travelling around the lake and cities
- 4 daily activities /Yoga- Pilates, Zumba, LBT, Jomba routine, Jumping, panorama power walk - jog, aqua fun, swimming/ 
- City views, Balaton BOB, Spa Szechenyi.
- Budapest travel card.
 For the program booklet please e-mail to info@jomba.co.uk
WOW HUNGARY PROMO:
 https://www.youtube.com/watch?v=j7q0Y_JZMrg