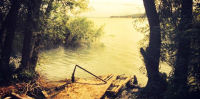 BUY 2 SAVE £50! USE COUPON CODE 'GROUP'! 
Price includes:
- 4 nights accommodation / 2 nights in Budapest and 2 nights at Europe's biggest lake Balaton. Check-in is on 9th Aug, and Check out 13th Aug.
- Traditional Hungarian Breakfast/Dinner, at the Lake, all traveling costs covered around the lake and Budapest. 
- Daily activities / Stretching, Zumba, LBT, Jomba routine, Jumping - World Jumping, Panorama power walk, Swimming/ 
- City views, Balaton BOB Panorama Trail, Spa Szechenyi.
- Budapest travel card.
 For the full program, booklet please e-mail to This email address is being protected from spambots. You need JavaScript enabled to view it.
'WOW HUNGARY' PROMO:
 https://www.youtube.com/watch?v=j7q0Y_JZMrg
Min Attendances: 3 people. Full refund guaranteed by 09/08/23.
English: Download Full Program Booklet here.
Hungarian: Download Full Program Booklet here.