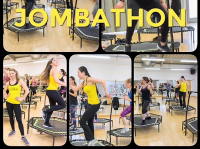 JOMBATHON IS BACK!

It is a whole 2 hour marathon workout fitness challenge involved with more Jumping/ Trampolining brands in one place.
You will have the opportunity to try out different styles and types of jumping movements, fitness workout programs on different trampolines and be a part of an incredible experience where the vibe and energy are unforgettable.
Come and feel the power of the music, the energy and feel the burning like fire.
What you will get? 
Meet 5 incredible instructors - Donna, Aga, Davina, our guest instructor 'Egle Fitness' form Hounslow  & Andrea. Also, you will meet our newest talents. 
Free Snacks and Water
2 hours non stop Jump & Fun
Delicious products form our newest partner: BC_diets