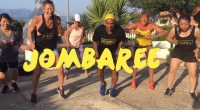 JOMBAREE
Meeting Point: Swan Ln, Whetstone, London N20 0PL - Redwood Cafeteria 8.50am.
Is a whole 3 hours workout 'day out' in the park, involved with more Fitness classes in one place. You will have the opportunity to try out different styles and types of jumping movements, fitness workout programs, as JOMBA, Zumba routines, LBT, Conditioning, Bootcamp. Be a part of an incredible experience where the vibe and energy are unforgettable. Come and feel the power of the music, the energy and feel the burning like fire.
We will make you burn enough to allow yourself for a nice picnic and reward yourself with a home made meals from Redwood cafeteria.
Our energy level will be supported by delicious BC diets products.
JOMBA PASS HOLDERS! If you have a pass and would like to stay after your first class, please use your own coupon code to collect this ticket. If you don't want to use your pass for this venue but you have a pass, please use the code of 'GOLD' to get 3 sessions for £16 only or bring £10 in cash.